Elementary School – First Through Sixth Grade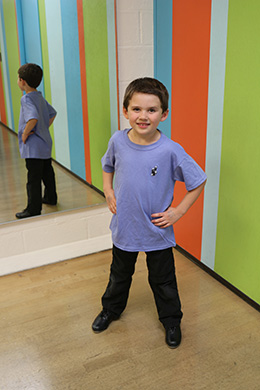 Cece Bechelli, Sheri Bechelli, Caitlin Bechelli and Maria Elena Cacciatore teach our elementary school age combination classes. Classes are one hour in length and consist of instruction in both tap and jazz dance. Our goal is to maintain a fun, positive and encouraging atmosphere as children gain self-confidence and progress through their dance education. Students are invited to perform in various community events as well as our annual recitals.
Happy Feet Tap Classes
In the tap portion of the class, students progress through a tap curriculum, which emphasizes proper technique, flexibility, strength, and musicality. Students learn tap technique at the barre and then incorporate that technique into fun center floor, across the floor and dance combinations. A wonderful selection of children's music is used including music from around the world, jazz standards, Broadway show tunes, and contemporary pop. Students progress from learning the basics of counting music and execution of beginning tap rhythms to the understanding and execution of very complex rhythm patterns and sequencing. Through structured exercises, students are taught and encouraged to improvise. Improvisation is a long-held tap tradition which not only encourages creativity, but also reinforces the importance of timing and musicality.
Happy Feet Jazz Classes
In the jazz portion of the class students progress through a curriculum that includes instruction in proper alignment, posture, core strength, flexibility and the development of jazz dance skills. Students learn technique at the barre and in the center floor eventually incorporating technique into exciting and fun across the floor patterns and dance combinations. Music used is varied and includes selections from around the world, Broadway show tunes, and contemporary pop.
Our children's combination tap and jazz classes run from September through early June. In the second half of the year, dances are selected for an end of year performance. Every other year, our younger dancers perform at an end of year recital at the Marin Center Veteran's Memorial Auditorium. When the performance is held at the Marin Center, each class performs one dance, either tap or jazz, selected by the class teacher.  Every other year, our younger dancers perform at Happy Feet where each class performs one tap and one jazz dance. Students are placed in appropriate classes by Happy Feet faculty. Placement is determined by students' age, number of years of dance experience and individual ability. Our goal is for students to build skills and enjoy dance in a positive and encouraging atmosphere. Students begin to learn the importance of each individual dancer's contribution to the class as a whole.