Happy Feet Dance Instructor
Years at Happy Feet: 23
Favorite Dancer: Gregory Hines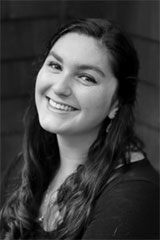 Maria Elena Cacciatore is a Marin County native, and joined the Happy Feet family family in a Tiny Toes class at the age of 2. Through the years she has studied tap, ballet, and jazz dance styles with Happy Feet director Cece Bechelli, and teachers Sandy Taylor, and Caitlin Bechelli. Maria also studied jazz at Happy Feet with Lynn Brilhante and Aimee Krasovich. Maria has enjoyed attending master classes at Happy Feet with incredible guest teachers such as Mark Mendonca and Jason Samuels-Smith.
During her high school years, Maria became part of the Happy Feet teaching staff and enjoyed teaching tap and jazz to children of all ages. She also studied acting, musical theater, and world dance through the EPiC production company at Redwood High School. Maria continued her study of jazz and modern dance at California Polytechnic University, SLO and graduated with a BS in Anthropology and Geography.
After moving back to Marin, Maria combined her passion for dance and theater. She resumed both her study of dance and her teaching position at Happy Feet. She also began working with Mill Valley's 142 Throckmorton Theatre in the summer of 2010, and has continued on their staff as the choreographer at the theatre's summer camp "Acting Out at the Throck." Maria is also the director of the theatre's weekend drama class "Little Throck" and has enjoyed working with choreographers June Cooperman and Bidalia Albanese on main stage shows including Jesus Christ Superstar, Rent, West Side Story, and Shrek the Musical. Last winter, Maria had the pleasure of choreographing 42nd Street alongside Cece Bechelli and Caitlin Bechelli at The 142 Throckmorton Theatre. Many Happy Feet dancers were included in the cast and performed the intricate and challenging dance numbers with grace and enthusiasm.
Maria loves to dance, work with artists of all ages, and share the joy of movement and music with everyone at Happy Feet. In addition to continuing in her role as a teacher of dance and drama, Maria plans to attend graduate school where she will work towards an elementary school teaching credential.