Happy Feet Dance Instructor
Years at Happy Feet: 28
Favorite Dancer: Bill "Bojangles" Robinson and Shirley Temple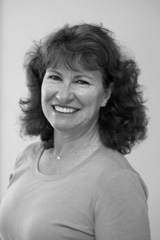 Sandy Taylor started as a tap student at Happy Feet in 1982 and joined the Happy Feet teaching staff over 28 years ago. Throughout the years, she has taught students of all ages and levels of ability, and has found her niche teaching students of pre-school through elementary school ages. Her love for children combined with her love of music and dance is reflected in her classes.  As Sandy says "There's no greater feeling than to see children experience joy through dance. Watching the children grow and progress as dancers is one of the many rewards of teaching at Happy Feet".
Sandy has continued her own study through participation in master classes at Happy Feet with guest teachers Sam Weber, Mark Mendonca, Linda Sohl-Ellison, Jason Samuels-Smith and Steve Zee. Sandy has also furthered her education in dance at Santa Rosa Junior College and has formulated her own choreographic style.
Sandy also assists Patty Simmons, our tuition manager, and Caitlin Bechelli, assistant director, in various roles as well. She is typically the person you will speak with when making phone inquiries at Happy Feet. She is instrumental in assisting Cece and Caitlin with student scheduling, assessment, and placement. Sandy makes it a point to welcome all who walk through the doors at Happy Feet.